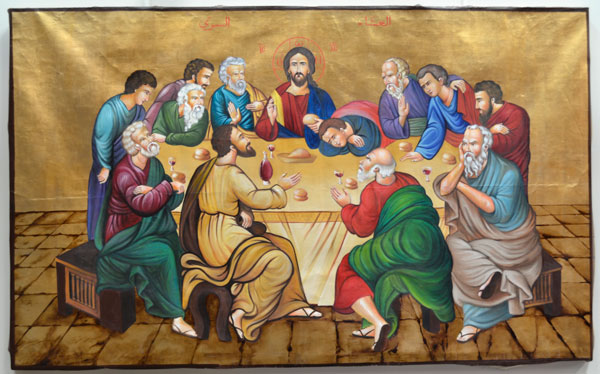 Murhaf Obeid
The Last Supper, Acrylic and gouache on canvas, varnished with gold leaf, 110 cm x 190cm.
Artist Statement
My name is Murhaf Obeid, I am from (Homs, Syria)
After I finished my last academy studies in Topography I went to Paulist's convent in Harissa- Lebanon, in 2001. And I got a bachelor degree of Science in Philosophy and Theology, 2009. Then I studied all the courses to get Master degree in Church Science (marriage and family) in Suggest University, Beirut, but still working on the final research about Paul Evdokimov.
In 2006, I followed an iconography class for about one year by the iconographer: Nicolas Majdalani, in Lebanon, then In May/ 2014, June/ 2015 I went to Minsk- Belarus and completed a 12 days master-class in painting and gelding icons.
I Participated in drawing icons for a book about old Christian fathers, translated into Arabic by Bishop Joseph Jbara, and drawing celebrity's profile pictures for "The history of Arabic literature" book (written by Hanna Fakhoury)/2008
2014-2016 I was responsible of writing the main icons of three churches in Beirut, Lebanon.
---
Want to know more about Murhaf and his work? Contact him on murhafobeid@hotmail.com